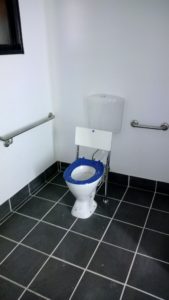 Portable Buildings Brisbane can make ablution blocks that are environmentally safe stand alone units that contain black water tanks in their bases.  We can also manufacture units that are permanently installed and landscaped into the natural surroundings, connected to the local services. We have also built using macerator technology.
All of our ablutions can contain toilets, showers with change areas, urinals and male and female segregation.  Ablutions contain at least one toilet for each gender therefore are compliant with the physical dimensions required for disabled patrons.
As with our focus at Portable Buildings Brisbane all of our ablutions are made to order and to your own specifications. The overall size of your ablution block can vary in width up to 4.5m wide and up to 12 metres long. Floor coverings can be a vinyl that is welded to provide an impermeable covering to your floor or you can go to a tiled floor for a more hard wearing surface.
In addition ablution blocks are commissioned both electrically and hydraulically before they leave our factory so that when they arrive on your site they are literally plug and play.