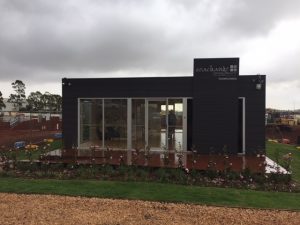 Portable Buildings Brisbane manufacture sales offices that are the best available in the market.  We are proud to have a relationship with one of the larger marketing suite leasing companies to build their Queensland market requirements.  This has given PBB the experience and the knowledge to build for the wider market.
Our marketing suites have quality large windows to allow for good lighting inside of the suite to highlight both wall and floor mounted stands.
Our plasterboard lined walls are finished by qualified plasterers who understand the importance of blemish free wall surfaces for presentations, or for mounting wall stickers. These quality walls can be finished with a variety of painted surfaces including aqua enamel to highlight their marketing presentations.
Floor coverings are generally hard wearing vinyl or floating floor boards, hence they are easy to keep clean and are light in colour to reflect the positive environment that is created inside of a PBB marketing suite.
Electrical fit outs are client based.  Most buildings include fit outs for TV and projector locations, floor and ceiling mounted power points as well as the more traditional wall mounted power and data connections. Light fit outs have varied across a wide range of installations and any requirement can be accommodated.
Externally our marketing suites are cladded in a range of fibre cement  and or colourbond products.  This allows for customization of colour schemes and to provide surfaces that make mounting and anchoring large marketing signs and banners easily.
We also have add-on veranda/deck options for extra space and versatility.
Our portable suites can be fitted out with toilets, kitchenettes and or store rooms to suit any of your requirements.
`